Do you really need a passport to book international airfare?
Find out more about how TSA and airline regulations affect booking your tickets.
---
PASSPORTS:
Air Travel
All persons traveling by air outside of the United States are required to present a valid passport book or other valid travel document to enter or re-enter the United States. And while you do not necessarily need a passport to book your airfare, we strongly recommend having a valid passport in hand before you book to avoid problems. You can be denied boarding if the name on your ticket doesn't match your passport name exactly, forcing you to purchase a new ticket.
The new wallet-size U.S. Passport Card is a travel document that can be used to enter the United States from Canada, Mexico, the Caribbean, and Bermuda at land border crossings or sea ports-of entry. Note that it cannot be used for international air travel.
Note that most destinations require a minimum of two, and some up to six, blank passport pages on arrival. Those who do not have enough blank pages can be denied boarding. Some destinations also require passport validity past the date of your departure, so check the travel.state.gov website closely. As of 2016, the US passport office no longer allows you to add passport pages, and instead requires a passport renewal. Frequent travelers have the option to apply for a 52-page passport, instead of the standard 24-page, for no additional cost.
You may be required to present additional or different travel documents when entering foreign countries, including countries in the Western Hemisphere. Before you travel, make sure you know the entry requirements of the country you plan to visit. Find everything you need to know regarding how to apply for a new passport, renew a passport and other helpful information at the U.S. Department of State website.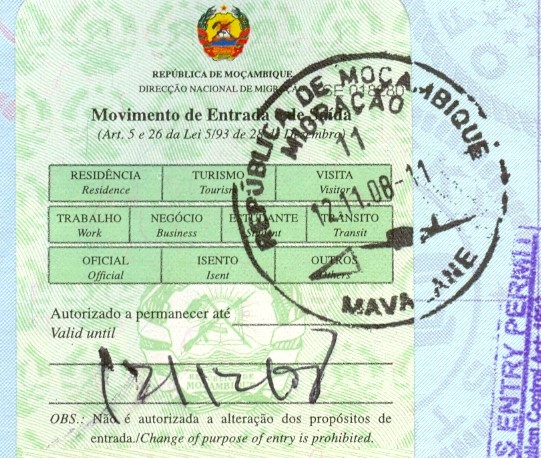 VISAS:
The information provided below applies to U.S. citizens traveling for tourism and should be used as a guideline in planning your trip. For more detailed information please visit the embassy website link as shown in each section.
Australia
Most U.S. passport holders traveling to Australia for tourism or business purposes for less than 90 days can obtain an Electronic Travel Authority (ETA). The ETA is an electronic label-free visa, which we can apply for on your behalf.
Mozambique
A visa is required for entry into Mozambique. Although it's recommended to acquire it in advance, it is possible to obtain a visa at the points of entry. Please pay close attention to the period you are authorized to stay in Mozambique on your visa ("Autorizado a permaneçer pelo período de [number of days])." This is the maximum number of days you may stay before you must depart Mozambique. The passports of all travelers who wish to enter Mozambique must be valid for six months upon arrival and must contain at least three clean (unstamped) visa pages each time entry is sought. The Mozambican Interior and Health Ministries has decreed that all travelers entering Mozambique, having previously visited a country where yellow fever is present, must present a valid certification of vaccination against yellow fever. It is recommended all travelers be vaccinated to avoid complications at the border. Any passenger who cannot present such a certificate at the port of entry will be vaccinated at a cost of $50 US dollars or the equivalent. Additionally, all travelers entering Mozambique must carry their yellow vaccination card/book.
Embassy of the Republic of Mozambique
Namibia
Visitors to Namibia for tourism are issued a temporary visa on arrival at the port of entry. Passports must have at least six months of validity remaining beyond the traveler's planned date of departure. Namibia requires at least six unstamped visa pages, or be denied entry and returned to the U.S. at their own expense. Travelers must also have proof of yellow fever vaccination if traveling from a yellow fever endemic country.
South Africa
Visitors to South Africa for tourism are issued a temporary visa on arrival at the port of entry. Passports must have at least 30 days of validity. Passports must have at least two unstamped visa pages, or risk being refused entry into South Africa, fined and returned to their point of origin at their personal expense. Travelers must also have proof of yellow fever vaccination if traveling from a yellow fever endemic country.
There are special requirements for minors traveling through South African ports of entry. Visit the Department of Home Affairs website for the most up-to-date requirements for traveling with minors to or from South Africa.
Tanzania
U.S. citizens with valid passports may obtain a visa either before arriving in Tanzania or at any port of entry staffed by immigration officials. The current fee for a visa is $100 (have cash on hand). A passport valid for a minimum of six months beyond visa issuance and/or date of entry, and at least one blank visa page is required. Visitors who enter on visas must present a round trip ticket and demonstrate they have sufficient funds for their stay. Proof of a yellow fever vaccination is required only for persons from, or those who have visited yellow fever endemic countries.
Zimbabwe
You need a passport, visa, return ticket, and adequate funds to cover your intended stay in order to enter Zimbabwe. If you are traveling for tourism, business, or transit, you may obtain a visa at the airports or other border ports-of-entry. There is currently no option of getting a Zimbabwean tourist visa in advance through the Zimbabwean Embassy in Washington. You also need two unstamped visa pages. You can expect to pay $30 for a 30-day/single-entry visa, $45 for a 45-day/double entry visa or $160 for a 12 month/ multiple-entry visa. Extensions of the 30 day and 45 day visas are possible, and require visiting the Zimbabwe Immigration Office's public window.
Upon arrival in Zimbabwe, travelers should keep all travel documents readily available, as well as a list of residences or hotels where they will stay while in Zimbabwe. Travelers to Zimbabwe must carry some form of identification at all times. Zimbabwe has become a cash society, with very few establishments accepting international credit or debit cards. Travelers must bring adequate cash for their planned visit and small bills are advised as change may not be readily available. Upon arrival, visitors are required to fill out a Currency Declaration Form to state the amount of currency that they are bringing into the country. You will be given a copy of this form and upon departure you will be required to show the copy. While there is no set legal limit on the amount of foreign currency that a person can carry into Zimbabwe, the maximum foreign currency that can be taken out of the country is U.S. $1,000 (more if documented on entry).